The Official Bugs Web Site
Do you love Bugs? Do you long to know everything about her?
text
Then you've come to the right place, because this is the only website on the whole World Wide Web where you will find up-to-date information and officially authorized photographs of Bugs the Chocolate Lab. Right here. Don't believe it?
Just see for yourself.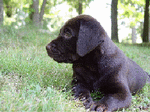 NEWS: Tuesday, October 3, 2006
Yes, we realize it's been nearly 2 months since Bugs' site has been updated. Her schedule's just been swamped that she hasn't had the time to provide us with information for her site. She's almost 4 months old now... More>>